What is Mittens for Detroit?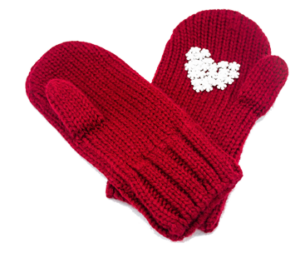 Mittens for Detroit, Inc., is a 501(c)(3) nonprofit with the purpose of collecting, purchasing, and distributing new mittens and gloves to children, teens, and adults in need in Detroit, Michigan, and other nearby underserved cities.
Our Community Collection Season runs from September 6th through January 10th. With growing and enthusiastic public and corporate support, more than one-quarter million pairs have been collected, purchased, and distributed since 2010. Our Distribution Partners' needs are great in our cold Detroit winters. You can help us with our mission – Warming Hearts, Two Hands at a Time. Please visit our GET INVOLVED tab to learn how to donate mittens, make financial contributions, volunteer – and attend our events! Need more information? Please CONTACT US!
How can I help Mittens for Detroit?
You can support Mittens for Detroit in a number of ways!
Hold a MittenRaiser, encouraging your school, organization, office, service group, or friends to collect new, warm, durable mittens and gloves. Feature a MittenRaiser as part of your birthday party, bar/bat mitzvah, graduation celebration, store opening, community service project, wedding, office party… Your creativity is your only limit!
Donate! Let us do your shopping for you! Your tax-deductible monetary donations will help us to purchase new mittens and gloves from our Michigan-based partner, Broner Hat and Gloves, where we can purchase pairs that retail for $18-$20/pair for at greatly reduced prices. Click here: http://bit.ly/Donate_MFD
Volunteer your time to help with The Big Sort events, September through March. Hundreds of volunteers have a blast every year, as they count, sort, and pack the collected pairs into boxes to get them ready for pick-up by our Distribution Partners. Perhaps you have a skill or talent that you would like to volunteer to help our small nonprofit – maybe even as a Board of Directors member! Let's talk, and we will find just the right way for you to enjoy being part of Team Mittens.
Host a public collection! Your retail establishment, restaurant, library, office, or any other location can have a collection box for your customers or staff to fill.
In short, we welcome your help, in whatever way is comfortable for you!
Where can I drop off mittens/gloves?
Thanks to the incredible generosity of people like you, an average of 30,000 new pairs are donated each winter. Most are delivered by the donors to our Community Collection Partners, while others are mailed to us from all over the country.
You can find your closest Community Collection Partner by viewing the interactive map when you click on the LOCATIONS tab (the map is active from Se0ptember 6th – January 10th). If you would like to mail the pairs to us, please send them to:
Mittens for Detroit, Attn: W. Shepherd, 2886 Twelve Mile Road, Box 721427, Berkley, MI 48072
Thank you!
Who are the Distribution Partners?
A partial list of our nearly 100 Distribution Partners is on our website. Our goal is to reach a broad spectrum of the Detroit community, primarily helping the smaller programs, organizations, and schools that might not get as much attention as some of the larger local or national organizations. From the Michigan Veteran's Foundation to Latino Family Services to The Children's Center of Wayne County to St. Patrick's Senior Center to schools and small shelters, Mittens for Detroit remains committed to servicing the needs of ALL segments of Detroit's community without discrimination.
How can I host a collection box for my shop or business?
If you would like a collection box for your retail establishment or company, please contact us. We ask that any retailers or companies who wish to have a collection box be able to project that they will collect a minimum of 200 pairs. If your company is selected as a Community Collection Partner, you will receive notification from us. You will be able to pick up your boxes from us, at your earliest convenience! At the end of the collection season, you will deliver your collection to Mittens for Detroit.
Public collections are put on our interactive LOCATIONS map, so that people in the community can know where to drop off their donated pairs. In many cases, this is a great way to introduce new people to our Collection Partners.
Private or in-house collections – MittenRaisers – are not put on our LOCATIONS map.
Mittens for Detroit provides branded collection boxes, posters, and brochures to help you help us! These are free of charge. In order to offset the cost, we ask that you arrange to pick the materials up at the start of your collection, and then bring the pairs to our office in downtown Detroit at its conclusion. Thank you!
Please contact us if you have any questions or need more information.
Do you accept gently used mittens and gloves?
No, we only accept new and unused mittens and gloves, in children, teen, and adult sizes.
New pairs include those created for donation – knit, crochet, or sewn – as long as they have not been previously used. Thank you.
Do you accept handmade gloves?
Yes! We LOVE handmade pairs! In fact, we were honored to be part of a beautiful article on charity knitting – a kind of farm-to-table description of what happens to the pairs that you create and donate to a charity. Please enjoy this article by clicking here: https://www.interweave.com/article/knitting/charity-knitting-makers-hands
There are many charity knitters, crocheters, sewists, and upcyclers who donate their time and resources to providing Detroiters with handmade mittens and gloves. We welcome, accept, and appreciate these. We ask that they are easy-care yarn or fabric. If you choose to line the mittens, please do so with an easy-care fabric. We ask that gloves for children under age 3 be created without embellishments that might pose a safety hazard. Please contact us for more information – [email protected]. You will find some interesting ideas on our MITTENS PATTERNS tab.
What do you do with financial donations?
Your tax-deductible financial donations the purchase of new, warm mittens and gloves. Your donations also support our operational costs.
You can make an online donation by clicking http://bit.ly/Donate_MFD. You will immediately receive a tax receipt.
We hope you will consider becoming a monthly or annual donor to Mittens for Detroit. It's a great way to inflation-proof your giving! You can join the Handwarming Heroes Circle by clicking http://bit.ly/HandwarmingHero. As a Handwarming Hero – you will be helping to support our mission with a recurring donation of your choice, a minimum of $10 per month or with an annual donation of $100 or more. This gracious donation will allow us to better plan our annual budget and help with funds during the summer months when our general donations are lower. As a Handwarming Hero, you will receive perks from us as a token of our appreciation! During 2020 and 2021, the funds raised by our Handwarming Heroes Circle donors immensely helped us weather the financial storm of the pandemic.
We very much appreciate our generous donors – we hope you will join Team Mittens with a donation today! Thank you!
Can I volunteer to help Mittens for Detroit?
There are many ways to volunteer for Mittens for Detroit.
Our biggest – and most fun – volunteer activity is The Big Sort, which is a series of sorting parties that run from September through March each year. Teams of individuals from local businesses, agencies, community groups, colleges, and so on come to our office in downtown Detroit to sort, count and box the pairs up for our Distribution Partners to pick up. It's a fun event, a great team-builder, and something that you will want to include in your annual volunteering year after year.
Perhaps you have skills or talents that you would like to share with Mittens for Detroit, to help us grow. Perhaps joining a committee, hosting an event, or event joining our Board of Directors might be what you want to do. We want to hear from you, so please contact us!
If you are interested in helping, thank you! Click on the GET INVOLVED tab, click on VOLUNTEER in the drop-down menu, and sign up today! More questions, please contact us – [email protected].