MFD Pop-Up Shop
Purchase with a purpose this holiday season and help support us! We have some amazing and fast gifts with local pickup, delivery and priority mail!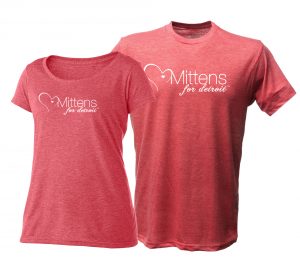 Make a Fashion Statement in Our T-Shirts and Signature Mittens
Let folks know that you are a proud supporter of Mittens for Detroit in our new t-shirts! These soft heather-red shirts do in fact make a great fashion statement. Buy for yourself or as a gift – the purchase of each shirt funds a warm pair of adult gloves to be given out this winter.
Speaking of winter, what could be a more appropriate fashion statement supporting Mittens for Detroit than a pair of toasty warm mittens? These beautiful mittens are knit fabric on the outside, warm fleece on the inside which self-cuffs, and there are leather patches on the thumbs and palms to making driving a breeze. They come in Adult Size S/M and M/L. Stock up now for the holidays as these mittens will soon wave goodbye!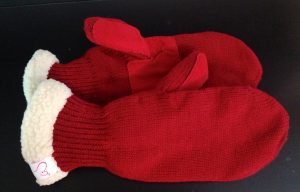 Mittens for Detroit Bracelets, by Link Wachler Designs
We are so fortunate to have these beautiful bracelets designed for us by Link Wacher Designs. The bracelets come in three styles, as shown in the photos. They all feature a sterling silver clip-on MFD heart logo 7mm black silicone bracelet with stainless steel clasp, with additional features that can be added. MFD's Executive Director Wendy has worn hers early every day since February 2015 – and it looks brand new! A beautiful bracelet to wear – especially knowing that each one sold warms the hands of children and adults in Detroit with their own new mittens and gloves.
Visit our Merch Shop on Zazzle.com
The perfect place to shop for presents or for yourself while doing good for children and adults in Detroit! Shop purchases fund new mittens and gloves.
You'll find our Smitten with Mittens calendar, mugs, phone cases, even a marvelously warm fleece blanket to keep you comfy this winter!