---
About this event:
Created by Wendy Shepherd
---
The Yarn Stop 25 South Main Street Clawson, MI 48017
USD 10.00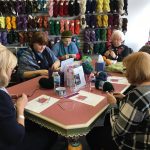 Join us in celebrating the efforts of many people to make this mitten collection season a success at an Open House on Sunday, January 27th, from 1:00pm until 4:00pm as we celebrate the close of the collection season for Mittens for Detroit and National Mitten Month, as well as knitting and crocheting mittens! We know how cold it is out this month, so why not celebrate mittens? If you already knit or crochet mittens, be sure to bring pairs to donate!
Location: The Yarn Stop, 25 S. Main Street, Clawson, MI ~ Free Parking!
TICKETS: http://bit.ly/OpenHouseMFD19
Enjoy light refreshments, door prizes, mitten-related demonstrations, and the company of knitters and crocheters!
Admission to the Open House is a minimum tax-deductible donation of $10 to Mittens for Detroit and that will get you 1 ticket for a door prize. Want more chances? It's easy! Donate 1 pair of warm adult handmade mittens or gloves, receive an additional 1 ticket for prizes. Donate 2 pairs of handmade pairs, receive 2 tickets for prizes. 3 pairs, 3 tickets!
This event supports Mittens for Detroit, Inc., a 501(c)(3) nonprofit that collects, purchases and distributes new mittens and gloves to children and adults in need in Detroit ~ www.MittensForDetroit.org.
Questions? Email The Yarn Stop at Info@TheYarnStop.com or Mittens for Detroit at Info@MittensForDetroit.org See you there!!!!!!
Wendy Shepherd, Mittens for Detroit ~ & ~ Sam Gill, The Yarn Stop